Monuments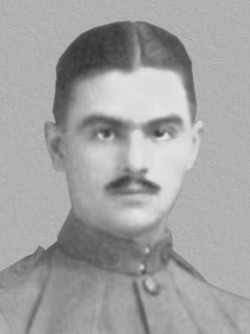 Name:
Thomas Eugene O'Shea
Unit:
107th Infantry Regiment, 27th Division
Date of Death:
1918-09-29
Cemetery:
Somme American Cemetery Bony, France
Decoration:
Congressional Medal of Honor, Navy Cross, French Croix de Guerre and Portug
Comments:
O'Shea was awarded the Medal of Honor for action near Le Catelet, France, 29 September 1918. His citation reads, "Becoming separated from their platoon by a smoke barrage, Cpl. O'Shea, with 2 other soldiers, took cover in a shell hole well within the enemy's lines. Upon hearing a call for help from an American tank, which had become disabled 30 yards from them, the 3 soldiers left their shelter and started toward the tank under heavy fire from German machineguns and trench mortars. In crossing the fire-swept area Cpl. O'Shea was mortally wounded and died of his wounds shortly afterwards."