Monuments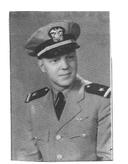 Rank:
Lieutenant (Junior Grade)
Date of Death:
1945-08-06
Cemetery:
Jefferson Barracks National Cemetery, St Loui
Comments:
From Butler, Pennsylvania, pilot of a Helldiver which took off from the USS Ticonderoga on 28 July 1945 on a mission to attack Kure. Hit by anti-aircraft fire over target, the plane ditched near Hiroshima. Porter was taken prisoner by the Japanese, and was held at the Chugoku Military Police Headquarters in the center of Hiroshima. He was killed on 6 August 1945 when the atomic bomb was dropped on Hiroshima.