Monuments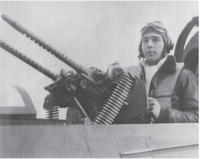 Name:
Norman Roland Brissette
Date of Death:
1945-08-19
Cemetery:
listed @ POW Memorial Museum, Andersonville,
Comments:
Born 10 May 1926 in Lowell, MA. Gunner of a Helldiver which took off from the USS Ticonderoga on 28 July 1945 on a mission to attack the Japanese cruiser Tone anchored near Kure. Hit by anti-aircraft fire over target, the plane ditched near Hiroshima. Brissette was taken prisoner by the Japanese, and was held at the Chugoku Military Police Headquarters in the center of Hiroshima. He was near the epicenter on 6 August 1945 when the atomic bomb was dropped on Hiroshima. He died on 19 August of radiation poisoning. His remains were never recovered.