Monuments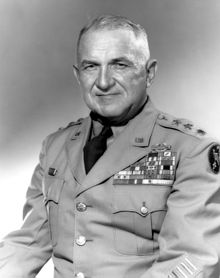 Name:
John Wilson "Iron Mike" O'Daniel
Unit:
3rd Infantry Division
Date of Death:
1975-03-27
Cemetery:
Fort Rosecrans National Cemetery, California
Decoration:
DSC, DSM w/3OLC, Silver Star, LOM, Bronze Star, Purple Heart, Air Medal
Comments:
"Iron Mike" was born on 2 Feb 1894 in Newark, Delaware. Died on 27 March 75 at 81 years of age in San Diego, Arizona. He had a long and illustrious Army career, enlisting in 1913 and retiring in 1955. He saw combat in both world wars and the Korean War, most famously as commander of the 3rd Infantry Division during the invasion of Southern France.