Monuments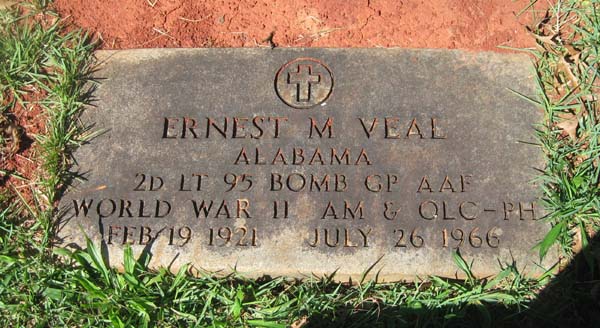 Name:
Ernest Moye "Moe" Veal
Date of Death:
1966-07-26
Cemetery:
Roselawn Gardens Of Memory, Alabama
Plot:
Garden 3-Lot E1/2 116-5
Decoration:
Air Medal, Purple Heart with Oak Leaf Cluster
Comments:
Ernest Moye "Moe" Veal was born on February 19, 1921. He was the son of David H. Veal and Gertrude Hamrick Veal. He was the Co-Pilot of the B-17 43-38660 which took off from Station 119 in Horham, Suffolk, UK, on a mission to bomb Heilbronn, Germany on 20 January 1945. Shot down by flak over Hirtzfelden, France. Six of the crew parachuted safely and were taken prisoner (including Veal) while four died in the wreckage. 2Lt Veal died on July 26, 1966 at the age of 45.