Monuments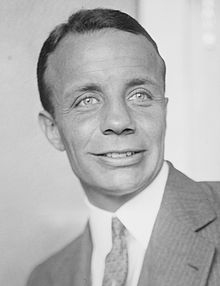 Name:
Theodore D. Roosevelt
Date of Death:
1944-07-12
Cemetery:
Normandy American Cemetery, Colleville-sur-M
Decoration:
Medal of Honor, Distinguished Service CrossDistinguished Service MedalL
Comments:
Born September 13, 1887 in Oyster Bay Cove, New York, he was the eldest son of President Theodore Roosevelt from his second wife Edith Roosevelt. He graduated from Harvard University in 1909 after attending Groton School and after graduating from college, he entered the business world. In 1915, Major General Leonard Wood organized a summer camp at Plattsburgh, New York, to provide military training for business and professional men at their own expense which all three Roosevelt sons attended. Ted and Archie Roosevelt accompanied Major General "Black Jack" Pershing with the American Expeditionary Force. He commanded the 26th Regiment in the First Division as lieutenant colonel. He fought in several major battles. He was gassed and wounded at Soissons during the summer of 1918. After service in World War I Roosevelt began his political career. In 1919 he was elected to the New York State Assembly. In 1921 he was appointed Assistant Secretary of the Navy. In 1924, he was the Republican nominee for Governor of New York but lost. In September 1929, President Herbert Hoover appointed Ted Governor of Puerto Rico. Hoover was impressed with his work in Puerto Rico and appointed him Governor-General of the Philippines in 1932. In 1940, he attended a military refresher course offered to many businessmen as an advanced student, and was promoted to colonel in the Army of the United States. He returned to active duty in April 1941 and was given command of the 26th Infantry Regiment, 1st Infantry Division, the same group he fought with in World War I. Late in 1941, he was promoted to brigadier general. Roosevelt led his regiment in an attack on Oran, Africa, on November 8, 1942. In February 1944, Roosevelt was assigned to England to help lead the Normandy invasion. Roosevelt would be the only general on D-Day to land by sea with the first wave of troops. He was one of the first soldiers, along with Capt. Leonard T. Schroeder Jr., off his landing craft as he led the U.S. 4th Infantry Division's 8th Infantry Regiment and 70th Tank Battalion landing at Utah Beach. Their landing craft had drifted more than a mile south of their objective. Walking with the aid of a cane and carrying a pistol, he personally made a reconnaissance of the area and using the famous words "We'll start the war from right here!". Ted pointed almost every regiment to its changed objective and was awarded the Medal of Honor for his actions. On 12 July 1944, one month after the landing at Utah Beach, he died of a heart attack in France.