Monuments
Hell Ship Memorial- Shinyo Maru Sinking
Japanese Surrender Site Cebu Island- Americal Division.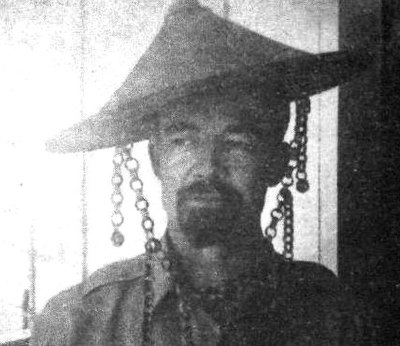 Name:
Wendell Welby Fertig
Unit:
Mindanao-Visayan Force (Philippine Guerillas)
Date of Death:
1975-03-24
Cemetery:
Crown Hill Cemetery Wheat Ridge, Jefferson County, Colorado
Plot:
Tower, Chapel, Cloister Corridor So., Col. 201, Sec. 6, Tier L
Decoration:
Distinguished Service Cross
Comments:
Colonel Wendell W. Fertig attended both the University of Colorado at Boulder and the Colorado School of Mines, but graduated from neither institution. However, at his Army retirement ceremony in 1950, he received an honorary Doctor of Engineering degree from the Colorado School of Mines. Upon leaving the engineering school in 1924, he accepted a commission as a Second Lieutenant in the Army Reserve.
Colonel Fertig served as a civil engineer with a number of mining companies in the United States and the Philippine Islands. When America entered World War II, he was recalled to active duty as a Lieutenant Colonel with the U.S. Army Corps of Engineers to help fortify the Philippines against an attack by the Japanese. Colonel Fertig was deep in the jungle of Mindanao when American forces in the islands surrendered. He chose to fight rather than surrender. Colonel Fertig, with an Army Captain and a Navy Petty Officer, organized a guerilla force of Filipinos and a small group of Americans. As the 8th Army was preparing to retake the Philippines, they expected the guerrillas under Colonel Fertig to play a major role in operations. His forces were supplied with weapons, ammunition, and other necessities by submarines and aircraft. Colonel Fertig had over 33,000 personnel on his rolls in February 1945, some 16,500 of them armed. As commander of the 10th Military District, Colonel Fertig grouped his forces into six divisions. Upon Japanese defeat in the Philippines, Colonel Fertig was assigned to MacArthurís General Staff to provide guidance on guerilla warfare tactics. Following World War II, he contributed to the development of the Armyís Psychological Warfare Center, which later became the John F. Kennedy Special Warfare Center and School. Colonel Fertig received a Distinguished Service Cross for his actions in combat.
Colonel Fertigís assignments included Assistant Engineer of the Bataan Field Area, Engineer of the North Luzon Area; Chief of the Construction Section with General Headquarters; Commanding Officer of the 10th Military District on Mindanao, X Corps, Headquarters Southwest Pacific Area; Consultant on Guerrilla Affairs with the U.S. High Command in the Philippine Islands; Special Forces Plans Officer in the Office of the Chief of Psychological Warfare; and Deputy Chief of Psychological Warfare. His final assignment, from 1947 to 1950, was as the Professor of Military Science at the Colorado School of Mines

GENERAL ORDERS: Headquarters, U.S. Army Forces in the Far East, General Orders No. 47 (August 18, 1943) CITATION: The President of the United States of America, authorized by Act of Congress July 9, 1918, takes pleasure in presenting the Distinguished Service Cross to Colonel (Corps of Engineers) Wendell W. Fertig (ASN: 0-254976), United States Army, for extraordinary heroism in connection with military operations against an armed enemy while Commanding the Mindanao-Visayan Force (Philippine Guerillas), in action against enemy forces from 8 May 1943 to 6 August 1943, in the Philippine Islands. Refusing to surrender when the major defense forces were overcome, Colonel Fertig assumed command of scattered forces continuing resistance on the island of Mindanao. He effectively organized many dispersed elements throughout the island, held much strong enemy forces continuously at bay, and denied to them some of the resources of their country. He improvised tactics for effective warfare with limited means, and ingenious methods for supplying his men and their families. He persisted in this enterprise, although a large price was set on his head, and he was of necessity in constant proximity to the enemy. His courage and resourcefulness enabled him to avoid capture, to inspire in the people of Mindanao a will to resist, and to furnish the United States Command with information of great military value. The exemplary heroism displayed by Colonel Fertig in the face of enemy fire and his constant, fearless leadership under adverse conditions reflect great credit upon himself and were in keeping with the highest traditions of the military service.Source: Colorado School of Mines and Hall of Valor.