Monuments
Generals Matthew B. Ridgway and James M. Gavin Memorial
December 1944 Museum Collection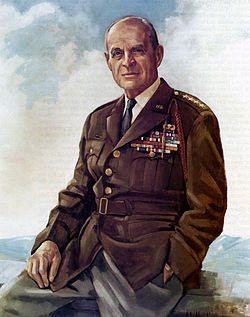 Name:
Matthew Bunker Ridgway
Date of Death:
1993-07-26
Cemetery:
Arlington National Cemetery, Arlington, Virg
Decoration:
Distinguished Service Cross (2)Army Distinguished Service Medal (4)Silv
Comments:
Ridgway was born March 3, 1895 in Fort Monroe, Virginia to Colonel Thomas Ridgway, an artillery officer, and Ruth Ridgway. He graduated in 1912 from Boston English High School and applied to West Point though he failed the entrance exam the first time due to his inexperience with mathematics, but after intensive self-study he succeeded the second time. He graduated in 1917. A year later, he was assigned to West Point as an instructor in Spanish and was disappointed that he was not assigned to combat duty in World War I. He was given command of a company in the 15th Infantry in Tientsin, China and later a posting to Nicaragua, where he helped supervise free elections in 1927. He graduated from the Command and General Staff School at Fort Leavenworth, Kansas in 1935 and from the Army War College at Carlisle Barracks, Pennsylvania in 1937. During the 1930s he served as Assistant Chief of Staff of VI Corps, Deputy Chief of Staff of the Second United States Army, and Assistant Chief of Staff of the Fourth United States Army. In August 1942, Ridgway was promoted to major general and was given command of the U.S. 82nd Airborne Division. In 1944, Ridgway helped plan the airborne operations of Operation Overlord, the Allied invasion of Europe. In the Normandy operations, he jumped with his troops, who fought for 33 days in advancing to Saint-Sauveur-le-Vicomte near Cherbourg. In September 1944, Ridgway was given the command of the XVIII Airborne Corps which was deployed in Operation Market Garden. The XVIII Airborne Corps also helped stop and later push back German troops during the Battle of the Bulge. In March 1945, he led his troops into Germany during Operation Varsity, and was wounded in the shoulder by German grenade fragments on March 24, 1945. He took over the 8th US Army, which had been deployed in South Korea. When General Douglas MacArthur was relieved of command by President Harry Truman in April, Ridgway was promoted to full general, assuming command of all United Nations forces in Korea. As commanding general in Korea, Ridgway gained the nickname "Old Iron Tits" for his habit of wearing hand grenades attached to his load-bearing equipment at chest level. In May 1952, Ridgway replaced General Dwight D. Eisenhower as the Supreme Allied Commander, Europe for the fledgling North Atlantic Treaty Organization. On August 17, 1953, Ridgway replaced General Collins as the Chief of Staff of the United States Army. Ridgway retired from the US Army on June 30, 1955 and was succeeded by his one-time 82nd Airborne Division Chief of Staff, Maxwell D. Taylor. Ridgway died at his suburban Pittsburgh home at age 98 in July 1993 of cardiac arrest, holding permanent rank of General in the United States Army.