Monuments
The Battle of Balete Pass (Dalton Pass) Marker
25th Infantry Division Memorial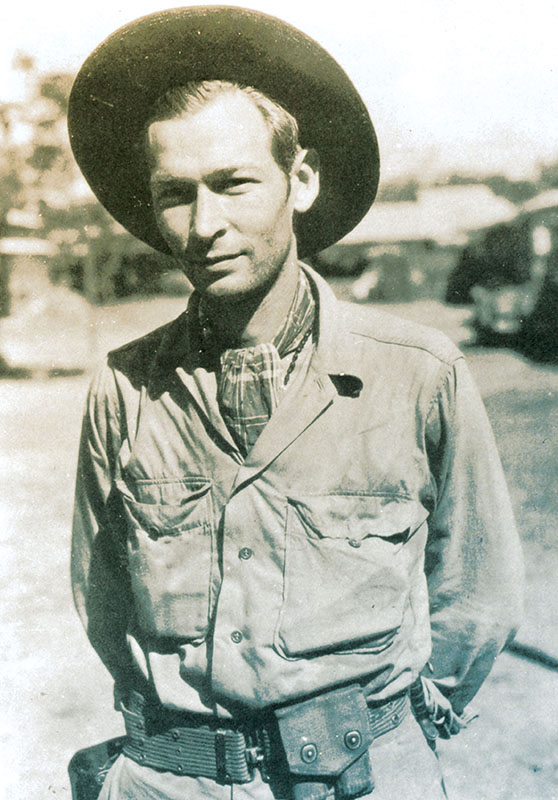 Name:
Robert Blair Lapham
Date of Death:
2003-12-08
Cemetery:
All Saints of the Desert Episcopal Church Cemetery, Sun City, Arizona
Decoration:
Distinguished Service Cross
Comments:
Robert Lapham was born on January 1, 1917 in Davenport Iowa. He was an Army Officer who was stationed on the Philipines at the beginning of WW2. He remained behind after the US Forces surrender. He lead Lapham's Raiders a guerilla force until the end of the war. He was involved in the Battle of Balete Pass.

2003 Obituary: WWII hero Robert Lapham dead at 86 Davenport native Robert Lapham, who led an army of Filipino guerrillas for three years during World War II and emerged from the jungles of Luzon island a storied national hero, died Thursday at his home in Sun City, Ariz. He was 86. His wife, Sharlott Junge Lapham, said he had been ill for about five weeks. "I told him I was going to have to bring in his witch doctor to get rid of all these evil spirits," she told the QUAD-CITY TIMES on Friday. "It worked once," she added. "(Gen. Douglas) MacArthur pinned the Distinguished Service Cross on him," one of Lapham's boyhood friends, Keith Jurgens, 90, said Friday from his home in Dallas. "But he should have gotten the Congressional Medal of Honor." Lapham's guerrilla activities were extremely important not just to the retaking of the Philippine Islands, but also to America's victory in the Pacific Theater as a whole, Jurgens added. "They blew up bridges and everything else they could think of to impede the Japanese," he said. "They made it difficult for the Japanese to move men and materiel to where the Americans were." Communication between the guerrillas and American forces was maintained, he added, so that American commanders knew not just where the guerrillas were, but where the Japanese were as well. Lapham was the third man, behind President Franklin Delano Roosevelt and MacArthur, to receive the Philippine Legion of Honor. He was greeted back in Davenport with a hero's parade. A graduate of the University of Iowa, Lapham had been working for the Chicago branch of the Burroughs Co. when, as a 2nd lieutenant of infantry in the Officers Reserve Crops, he was assigned to active duty in the Philippines and sailed from San Francisco on June 5, 1941. Six months later, the Japanese attacked Pearl Harbor and then the Philippines. Because of the "Europe first" policy, the men in the Pacific Theater of Operations were left to fight a losing, months-long battle without reinforcements, food or medical supplies. After MacArthur was evacuated to Australia, Gen. Jonathan Wainwright was given command of the Philippine defense force. As talk of surrender began, Lapham sneaked through the lines. In his 1996 book, "Lapham's Raiders: Guerrillas in the Philippines, 1942-45," he explained why he headed to the jungles to fight. "Somehow, I didn't like the idea of surrendering," he wrote. "I felt I had better chances on the outside than in a Japanese prison camp." It was not until October 1944 that his family learned what had become of him. For three years, he had been listed as missing in action. In addition to fighting the Japanese, Lapham battled malaria and dysentery. He assumed that reinforcements would come in a couple of months, but the months stretched into years. "I don't know what I would have done if I had known," he said. "Sometimes ignorance really is bliss." But the 13,000 men under his command became known as Lapham's Raiders, and they harassed and killed the Japanese at every turn. "The Japanese put a $1 million price on his head," Jurgens said. Among his many exploits was the planning of a raid that freed more than 500 beaten and tattered allied prisoners in a camp at Cabanatuan City. During the raid, he and his men fought off a tank-led Japanese attack along the escape corridor. When the war ended, he was 28 and had attained the rank of major. But a different kind of uncertainty overcame Lapham. "I had been a premier figure among a lot of people for a long time," he wrote in his book, "a one-man court of law with virtual life-and-death power over my domain, and I was emotionally reluctant to step down. "I actually ran a section of that country and that feeling of authority grows on you," he wrote. "You get to like it. Everywhere I went, I was regarded as something like a folk hero. Incredible as it may seem, more than once I awoke to find my bedroom full of Filipinos who had been standing there for who knows how long, just watching me sleep." Like many others in his situation, he took to drinking. He credited Sharlott for the love and attention that guided him back on the right path. They were married Dec. 7, 1946. "That way, we wouldn't forget our anniversary," she said. In 1975, he retired as vice president for industrial relations from Burroughs Corp., now Unysis, in Detroit. He and his wife moved to Sun City, where he served on the board of the country club, golfed and volunteered at the hospital. In 1995, he was inducted into the Davenport Central High School Hall of Honor. For years, he continued to receive letters from the Philippines, either from the guerrillas who had served under him or their children.
DSC: DSC Citation The President of the United States of America, authorized by Act of Congress, July 9, 1918, takes pleasure in presenting the Distinguished Service Cross to Major (Infantry) Robert B. Lapham, United States Army, for extraordinary heroism in connection with military operations against an armed enemy, in action against enemy forces from 8 December 1941 to 7 May 1945, in the Philippine Islands. Major Lapham, selected to organize throughout the Philippine Islands prior to the fall of Bataan, continued his activities during the period of enemy occupation. Breaking up his unit into smaller bands in order to cover more territory, he operated in the provinces of Tarlac, Pangasinan, and Nueva Ecija collecting arms and volunteers and eliminating outlaw bands, his organization so effectively protected the civilian population from the common enemy and roving bandits, that he was able to enlist the aid of thousands of Filipinos for his forces. Establishing radio contact with General Headquarters, Southwest Pacific Area, in June 1944, he regularly submitted intelligence reports covering central Luzon. In the fall of 1944 he was able to enlarge his intelligence activities and increase his combat strength through supplies and equipment which came through the submarine service. Early in 1945, he conducted offensive operations against the enemy, cutting communication lines, ambushing troop convoys, and attacking garrisons and supply dumps. This fighting continued until the Americans had passed through the area occupied by the guerrilla troops, after which his entire force of approximately 12,000 men was made available to the Sixth Army. In the face of many hazards and extreme dangers, Major Lapham was able to organize and unify a strong guerrilla force in Luzon and by skillful planning, timely activities, and ceaseless efforts, he contributed in a material way to the success of operations in the Philippine Islands. His inspiring leadership, personal bravery and zealous devotion to duty exemplify the highest traditions of the military forces of the United States and reflect great credit upon himself, his unit, and the United States Army.