Monuments
General Omar N. Bradley Headquarters
Cutting the Cotentin Peninsula Monument-9th Infantry Division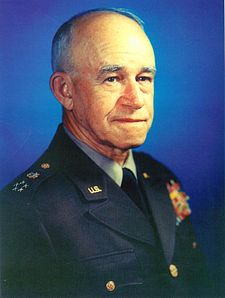 Name:
Omar Nelson Bradley
Rank:
General of the Army
Date of Death:
1981-04-08
Cemetery:
Arlington National Cemetery, Arlington, Virgi
Plot:
Section 30, Lot 428-1 Grid AA-39
Decoration:
Army DSM, Navy DSM, Silver Star, LOM, Bronze Star
Comments:
Born 12 Feb 1893 in Missouri. USMA 1915. Commanded the 82 Abn Div, 28th Infantry Division, II Corps, First Army, and 12th Army Group. After WWII he headed the VA, and then was the Chief of Staff of the Army, and then the first ever Chairman of the Joint Chiefs of Staff during the Korean War.